It seems strange writing about hot summer days and cooling ice cream when it's thundery and pouring down with rain outside (typical of summer 2012), but that doesn't stop me from thinking about/wanting to eat or make, delicious ice cream!
I've always loved ice cream, ever since I was a child - the excitement of opening the big freezer at my local newsagent and diving in to choose a lolly or ice cream was heaven, especially on a hot day after school. Even the sight outside a shop of the old Wall's Ice Cream logo (the yellow background and boy-girl picture) or the skipping children on the Lyons Maid ad boards would whet my appetite knowing that treats were in store, and as for the hearing the chimes of the ice cream van - music to my ears, especially if I could have 99 Flake in my cone!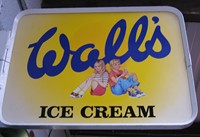 As the years rolled on and my taste-buds changed from lollies to luxury ices, coupled with ice cream manufacturers venturing into more exotic flavourings away from the conventional array of vanilla, strawberry and chocolate ones, this led me then to dip my toe into the world of making my own.
Worth it yes, hand-in-hand with the fact your heart can swell with pride at your own accomplishment, but making ice cream can seem hard work and off-putting when you think of the careful skill needed to separate eggs into whites and yolks and then the timed appointments of going back to the freezer to stir and mix the ice cream to make sure it sets properly and so on.....
But I was thrilled when cookery writer Nigella Lawson introduced a world of home-made ice cream to her readers which were easy to make, cheap and not a single egg yolk in sight and best of all - no repeat churning! Hence, a collection of recipes entitled: 'No Churn Ice Creams'.
Featured in a number of her books, Nigella has written ice cream recipes using a variety of flavours to accompany any dessert or perfect for stand alone indulgence.
Fruity flavours include pomegranate as well as bitter orange and for those that fancy an alcoholic twist, there's a taste of the tropical with margarita flavour and also pina colada which embraces the cocktail flavourings of rum and pineapple.
So with the basic ingredients of double cream, lime juice and icing sugar plus your chosen flavourings you can whisk, mix, pour and freeze with minimum fuss and maximum taste and ready made ice cream will be yours within a few hours.
Here are Nigella's quick flavoursome recipes for you to try for yourself. For that retro feel when serving, just remember to put a Flake in it (or two)!
http://www.nigella.com/recipes/view/no-churn-pomegranate-ice-cream-30
http://www.nigella.com/recipes/view/no-churn-margarita-ice-cream-32
http://www.nigella.com/recipes/view/no-churn-bitter-orange-ice-cream-176
http://www.foodnetwork.co.uk/recipes/nochurn-pina-colada-ice-cream.html
New No Churn Ice Cream recipes in Nigella's new book Nigellissima - take a look:
http://www.nigella.com/books/view/nigellissima-79